This is a life size replica of a BMW 750 motorcycle circa WWII. This is a truly amazing and unique sculpture.
The artist (Shi Jindian) created a life size replica of the ChiangJiang (Yangtze) 750, a military bike based on a pre- WWII BMW. Made from steel metal material, it took him three years to make, but he found deep serenity in the toil. When people touched his sculptures, they also touched the state of mind that emerged from the labor of his hands with tranquility and calm.
Shi Jindian's sculptures are made of steel, yet they are light, almost ethereal. After searching for years for "a material that was brand new, completely untraditional", he settled on steel wires. By trial and error, he learned how to crochet the two dimensional strands into three dimensional forms, using tools of his own devising. His wire meshes start out as wrapping around some common object. When the mesh is complete, Shi Jindian destroys or extracts the object, leaving only its steel exoskeleton. The result, he says is a kind of fiction, a virtual reality that can be walked around and touched.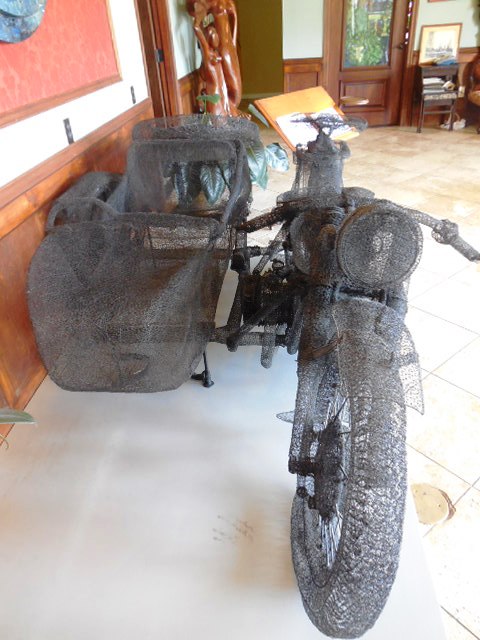 Surreal Motorcycle Sculpture
Chandiang River 750
by: Shi Jindian
$15,000